Short Talk: Using Our Powers for Good: Tech and Social Impact
Want to make an impact in your community, but don't know how, or feel like you don't have time? You're not alone. Luckily, there are a number of ways you can use your tech-industry skills to create positive change in your community - and yourself! (Fun fact: volunteers live longer and make more money than those who don't volunteer.) In this talk, we'll look at the why's, the how's, and the where's for sharing our skills. You'll learn more about the breadth of ways to give back - both technical and non-technical - and hopefully leave feeling empowered to reach out in your own community and start making connections.
---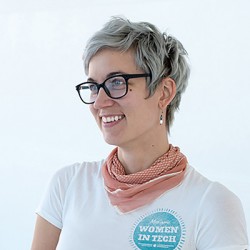 Hilary Stohs-Krause (@hilarysk)
Hilary Stohs-Krause is currently based in Madison, WI, working as a full-stack software developer at Ten Forward Consulting. She came to tech by way of childhood website-building (a "Buffy the Vampire Slayer" fansite, to be exact). She volunteers regularly with several tech and community organizations, and co-runs Madison Women in Tech, a local group with more than 1,000 members. She tweets feminism, puns and tech at @hilarysk.