Talk: Machine Learning Algorithms
Machine learning and artificial intelligence pop up in moves and TV shows all the time, but have you ever wondered how they actually work in the real world? Do you know what a Neural Network is and why it's important? Join me for a high level introduction to the algorithms used in supervised and unsupervised machine learning as well as their concepts, theory, and use case examples.
---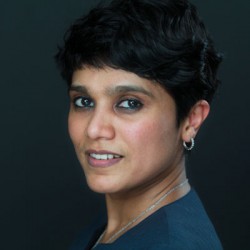 Naveen VK is a Principal Architect at NVISIA, a regional software development partner. Over the last 19 years she has designed and built custom applications using the Java Enterprise stack for industry leading companies in the finance, insurance, healthcare, manufacturing and government sectors, including the State of Wisconsin. Her projects typically include multi-tier, custom applications where she is involved in the entire application life cycle including requirements gathering, design, coding, integration, testing and deployment. In addition to coding in Java since 1997, she also has deep expertise in databases like Oracle (since 1994) and DB2 (since 1999) with SQL queries and stored procedures. She is an expert with frameworks like Spring (Core Spring, Spring Data, Spring Web Services, Spring IO, Spring AMQP, Spring Web Flow, Spring Boot) and Hibernate. She is a founder and a board member of Codecinella, a contributor to the architecture team at her current client and has earned a spot on NVISIA's senior leadership team. She enjoys sharing her expertise through technical talks and presentations at various meetups in Madison and Milwaukee.